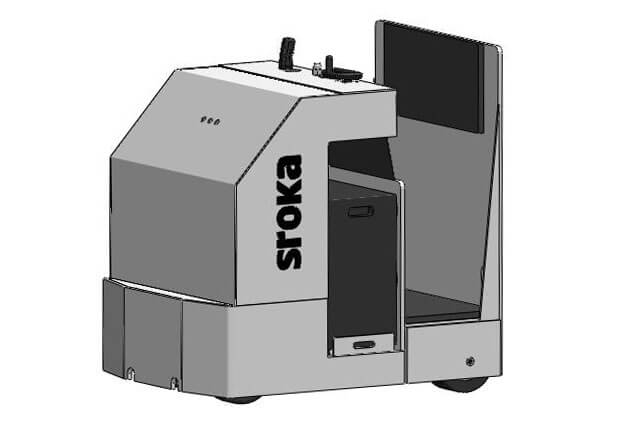 Stand Up Rider Electric Tow Tractors & Tuggers
General Information
The electric rider Tow Tractor is rugged in design, yet smooth in operation. Several tow tractor models are available including standard hitch type tug tow tractors, grip tow tractors and tuggers with vertical lift for transporting racks and carts. These tugger can be scaled to any application and custom designed to mate with your specific hitch type. Whether maneuvering a load across a factory or an assembly line, the Sroka Tow Tractor will operate with ease. Let us customize your electric tow tractor tugger.
TTR Series Rider Tow Tractors & Tuggers
Made in U.S.A.

Heavy Duty, All Steel Constructions

Rolling Load Capacities to 300,000 pounds

Flexible and Fully Customizable Tug Design

Standard Hitch Type Tug Tow Tractors

Grip Tow Tractors

Tuggers with Vertical Lift

Heavy Duty Electric Tow Motors

Environmentally Friendly Electric Powered
Standard Features
Electromagnetic Braking System

LCD Battery Discharge Indicator with Hour Meter

Horn and Keyswitch

Heavy Duty Tiller Steering Handle

Class H Insulated Drive Motors

Greased Pivot Joints with Bronze Bushings
Benefits
Low Maintenance

Economical

Quiet Operation

Smooth Acceleration

Versatile Application

Easy to Use
Customize It
"EE" Construction

Standard and Specialized Hitch Combinations

Stainless Steel Construction

Wash-Down Package

Anti-Corrosion Package

Strobe Light

Debris Guard

And MANY More Options Available
If you can't find what you're looking for…
contact us
.
Downloads coming soon!
TTR – Electric Rider Tow Tractors & Tuggers
These documents require Adobe Reader. Don't have it? Get it here.
Click to Expand an Image